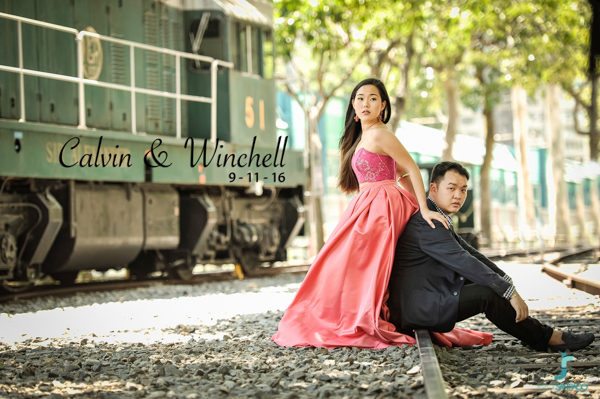 Yup, we all loved Winchell's smile! The same exact smile that greeted me when I arrived on her big day. We can feel the happiness filled in the air, this feeling also hid the fact that we were all worried that the rain will start pouring anytime soon. Apart from the fact that these two were dead set on enjoying their event, it really helped that they already felt comfortable around us, and that they trusted us to deliver our best. Definitely one of the advantages of availing an Engagement Pictorial session. You'll get to know your clients better and connecting with them gets them to pose on the day easier.
Speaking of Engagement Session, we had a simple plan-capture the lovers spending a day in HK. Since we just made them walk around different streets, no permits were needed. We just capitalized on the different flavors of the city – showing various color palettes – neutrals, black and white shots, multi-color, emphasizing how having professionals around makes everything look well put- together.
Now back to the wedding day. Fortunately, the weather is what we had hoped for, though we had limited time to do our entourage shots before the place grew totally dark. This meant running around and clearing the ceremony area of guest chairs as fast as we could to make room for all our subjects. But all is good.
Organizer : Christine Ong-Te Events
Bridal Gown : Jun Esacrio & Pronovias
Groom Suit : Felipe N Son's
Videographer : Ghe Consolacion
Florist : Teddy Manuel
Make-up Artist :Jomah Chu
Photobooth : Easy Pics
Host : Max Tiu
Cakes : Hearts & Bells
Entourage : Mang Ray & Teena Sabrina Tan
Pokemon Clay : Argie Tanaka
Shot alongside with Jun Garcia, Joseph Rudio and Jeff Cadiz